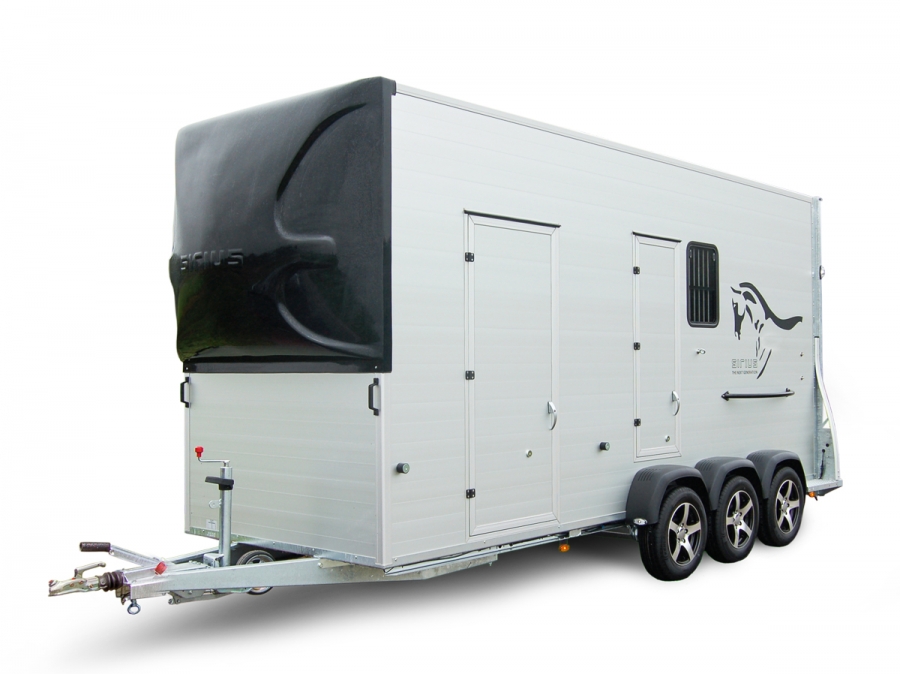 Sirius S190 Aluminium
The S190. is ideal for the professional and semi-professional rider who has special wishes!
With a body length of 520 cm, a width of 171 and a height of 240 cm, the S190. not comparable to the other models.
The S190 has a large living space of no less than 220x170x240 cm as standard. The horse section is fully equipped.
The trailer is equipped with our patented split bulkhead and the insulated roof is equipped with a roof ventilation that, together with the 2 sliding windows, ensures that the air flow in the trailer is perfect.
With the S190. a comfortable ride is guaranteed, making perfect performance self-evident.
The S190 (but also the S170) can be set up in a modular way with, for example, a lounge with kitchen unit and sitting / sleeping area.
But you can also opt for space for your carriage or for transporting several Icelandic horses or ponies. In short, everything is possible!
Technical specifications
Model

Dimensions
(lxwxh)in cm
Distance from breast bar to front
in cm
Tare weight
in kg
Total weight
in kg
Tyre size



Height of sides

Height of breast bar
in cm
Height of buttock bar
in cm
Tow hitch pressure
empty/loaded
in kg

S190 aluminium

525x171x240

90

1300

2500/
3000/3500

195-65R15

240

120 en 100

110

50/100
Options
Door/ramp
combination

Large entrance door

Heavy automatic
nose wheel

Interior lighting

Alu-compound floor

Ergonomic breast bar



Automatic canvas

Ventilating windows

Vertical power support front

Tunnel over door latch

+

+

+

+

+

+

hard cover

+

+/interior

+

Devided
separation
Saddleroom / dressing room

+

+ /160x171x240 cm

+ standard / – option
| | |
| --- | --- |
| S190 Aluminium | S190 Aluminium Living |
| S190 Aluminium Islandic | S190 Aluminium Cariage |
Available colours
Black metallic